Back to all posts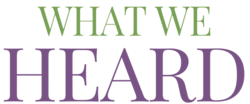 Alexander Park Community Engagement, May 2023
After sharing our Draft Plan for Student Success at our community engagement evening on May 11 and online for two weeks afterwards, we collected all feedback received and created a "What We Heard" document to share with our community (also below).
Responses were themed, and the information we received is being used as we work towards our final 2023-2024 Alexander Park Elementary School Plan for Student Success, which will be finalized and shared by the end of September.
Thank you to the parents who joined us on May 11 and contributed to our online feedback. Here are the themes we heard:
School Community
We heard in our feedback that families value the care that is shown at pick up and drop off times, when teachers regularly greet students and their families outside of the school, particularly those teachers with younger students. One suggestion we received was about incorporating a "buddy" system where older students work regularly with younger students. We have incorporated this feedback into our Equity, Diversity, and Inclusion goal, where we will have students in multi-age groupings through the year exploring the values of our school. Like last year, we will be starting the year with a "Welcome Week" of activities when Gr. 1-3 students are multi-age grouped together and work with all teachers over the first three full days of school.
Families are also feeling a lack of connection to what is happening in school. Staff are considering internet-based solutions to sharing learning, and this feedback will be routinely revisited through the year to ensure adequate conversations are happening between families and classroom teachers.
We also heard about opportunities to engage outside groups to support our learning, for example consulting with local governments to see what resources they can provide in our Stewardship for the Future goal of greater connection to local areas.
Success for Each Learner
While families indicate that we do a good job supporting students who require additional support, they indicated that they would like to see more support for students who are ahead of their peers academically.
All classrooms have a variety of learners, with strengths in all sorts of areas, and we try to have multiple access points in every learning activity to allow students to engage at their "just right" levels. This is very much supported in our redesigned curriculum and in our foundational documents, like the Early Learning Framework. As part of our planning in this area, we have established a goal in mathematics centred on communicating understanding of mathematical thinking. Students will be able to engage in and demonstrate their understandings from emerging understandings to sophisticated understandings of concepts. The effect of doing this is it grows our practices across curriculums.
Stewardship and Outdoor Learning
Families note that we take learning outside a lot at Alexander Park, though it is inconsistent from classroom to classroom. We have set a Stewardship goal this year that will see all classrooms engaging in work to improve their connection to the land this year.
The feedback we received (online)
What are some creative suggestions for things we can do in our school to continue to improve?
School plays
I would love to know more about the weekly schedule for the class (e.g. going for a walk, gardening, playing soccer, gym, etc.) this just allows me to reinforce at home or prep before it happens. My child is in kindergarten and doesn't fill me in... lol. I think he could learn more from these activities if I can follow up after or before. Helps build the conversation instead of school was "good".
Enrichment for kids who are ahead of baseline achievement indicators
Greater communication between parents and teachers and the principal, more opportunities for parents to be invited into classrooms, see what kids are doing in school. In 2020 there was a portal where teachers could post pictures of class activities, this was helpful in providing a "window" into class time. School tends to feel very much "behind closed doors"; I have little knowledge of how my kids spend their days.
I'd love to see less split classes and more regular classes where kids are with other kids their age.
What are some examples of key things you appreciate or think are working well in our school?
I think the out door learning is working well with the kids. I think being welcoming to all kids, race and such you guys have done well with. Your continously knowledge of the indigenous community is very appreciated by me and my family.
Teachers show they care and as a parent this makes all the difference. I love dropping off my child and seeing the teachers interacting and helping each other. The environment feels very welcoming and happy.
"Teachers who prioritize learning outside the classroom, outdoor learning
Focus on pro-social skills
Support for kids who are falling behind baseline achievement indicators
Incorporation of learning about indigenous cultures/practices
Library days, gym days, the fact that those things are on a schedule is great.
What are some examples of things you think our students should be able to experience or accomplish to enhance their learning, that they currently do not have access to?
I feel kids should have a chance for more Risky play while at school. I feel the kids get shut down a lot because someone might get hurt.   Risky play is so important for kids in many ways.  this is hard to explain in writing. "
I have no idea about this yet.
This is tough... I think since my child is in kindergarten he is experiencing so many new things. One thing I think about is the transition into Lady Grey and interacting with older kids so it isn't such a shock. I haven't heard great things about Lady Grey and it makes me nervous, so I'm not sure I would want that interaction right now anyway.
"Not all classes have equal access to outdoor learning. Not all classes have equal access to field trips. These things seem to be teacher-dependent, so if your child is placed with a teacher who values these things then they will have more outdoor learning time/field trip opportunities.
Language and music classes, taught by French and music teachers
More help on the social-emotional front. Talking with other adults, not just their teachers. Maybe "roots of empathy", where babies meet young kids. Or a buddy system where a 3rd grader "adopts" a Kindergartener to show him or her the best parts of the school.
The feedback we received (in person)
Priority 1 – Equity Diversity and Inclusion
Do you agree with the goals and strategies? Why or why not?
Multi-age groupings are good. Activities are special because they are seeing different groups.
Have we missed anything?
Possibility of Gr. 2/3 mentorship (some coaching beforehand) – providing students real life experience.
Is there anything else you would like us to know?
Opportunities exist for community involvement (e.g., town recreation department, family centre)
Priority 2 – Success for Each Learner
Is there something else you would like us to know?
Using collaborative times and learning rounds to further teacher learning in these areas.
Priority 3 – Growing Capacity of Self and Others
Is there something else you would like us to know?
Do you have a repository for shared lessons?
Incentives for sharing – "Shared something, learned something" so it isn't one sided.
Priority 4 – Stewardship for the Future
Is there something else you would like us to know?
There are reciprocal relationships that we can develop with the Town of Golden (e.g., using town specialists to support learning, using school learning to share important ideas to the community).